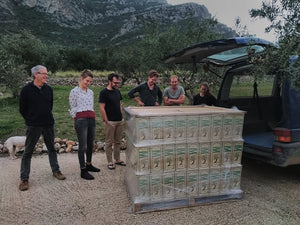 Once you're fortunate enough to have more olive oil than you need, you ought to share it with others.
We are Tom & Juli - we run Honest Toil as a team of two, weaving olive oil into our wanderings and our eternal quest for a life and work that is humble & sustainable.
Originally from the UK and Hungary, we fell in love with Greece when Tom's family relocated to the town of Kyparissia in the Western Peloponnese. We suddenly found ourselves responsible for a tiny olive grove, consulting neighbours down the local taverna on harvesting techniques and exploring the olive press of Armenios where we soon became regulars. This is how we ended up with our first batch of self-produced olive oil: the freshest, greenest, grassiest stuff we've ever tasted. 
Once you're fortunate enough to have more olive oil than you need, you might as well share it with others. From the back of a friend's cargo bike through Berlin flea markets and Budapest cafés to London refill shops, the oil became our companion in a life of travel. People were so used to processed, heated, and mixed oils that this unadulterated, fresh-pressed olive juice seemed to take everyone by surprise. Before we knew it, 
what started out as an experimental venture turned into a full-time commitment.
Spending our time between Greece, Budapest, Berlin, and the UK, we've been bringing the oil from our groves and nearby small farms to the other places we call 'home', sharing the experience of having this raw and fresh ingredient at hand. Honest Toil is our way of life and a way of connecting with and supporting the people and environment around us. 10 years down the line and we still get just as excited every time the harvest rolls around and we get to share the fresh oil with those who appreciate it.