100% koroneiki olives
Cold-pressed & unfiltered with a very low acidity. Never heated or mixed with anything else. Direct from the village press.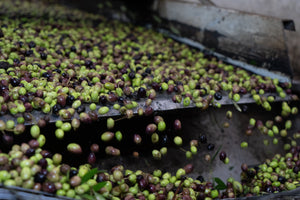 Honest Toil is an unfiltered, cold-pressed extra virgin olive oil. Let's see what that means in detail...
Extra virgin: the acidity of our oil is around 0.2-0.3% (depending on the particular harvest), which is impressively low. 

It's made exclusively from koroneiki olives from the surrounding olive groves. The koroneiki is a tiny variety native to Greece and has an exceptionally high level of polyphenols (that healthy stuff olive oil is most famous for — it has been linked to lowering the risk of cancer and heart disease).

It's cold-pressed; the temperature of the whole pressing process is never above 27 °C. We could get significantly more oil if we pressed at higher temperatures, but that would also mean meddling with the precious nutrients in the olive - and we'd rather keep it pure! 

It's unfiltered:

once pressed, it isn't put through any additional processes

. The oil contains the sediment from olive skins and pips, giving it a great opaqueness and thick texture. We recommend giving it a good shake before use.

It's completely unblended: unlike most commercial oil brands found on supermarket shelves,

 it isn't mixed with inferior oils, oils from other areas or oils from previous harvests.

Unlike filtered and processed olive oils, Honest Toil is

a living substance with a lifespan

. This means that around harvest time, the oil is thick and green with a peppery kick, then as the oil matures, its colour turns golden and its flavour softens. This is a perfectly natural process that we respect and celebrate. 

We

always bring the fresh harvest

to Budapest, Berlin, and the UK: this means a lot of hard work for us in November-December, but it's totally worth it!

Its shelf life is a minimum of 1.5 years from the harvest date.